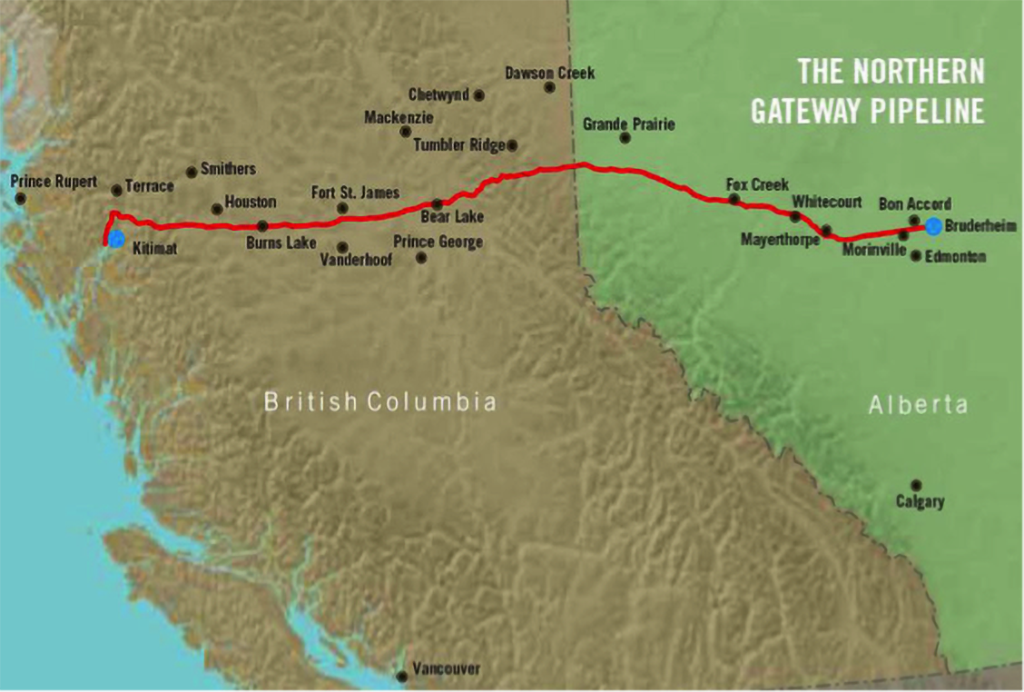 While The Northern Gateway Pipeline debate is loaded with emotion, objectivity and trust are in short supply. Under these circumstances, can government and business acquire the social license to proceed or will they over-ride opposition and proceed without public support?
The debate about social license can be distilled to a few pivotal questions:  Is the project in the best interest of Canadians, including future generations? Can the social and environmental risks be justified? Who has the moral authority to make these decisions? Can business and government proceed without social license from Canadians, especially from the communities and First Nations directly affected?
What about Enbridge and their gateway proposal raise so much opposition? Is it that the 1,177-kilometer pipeline would cut through aboriginal communities and countless lakes and rivers across northern Alberta and B.C. to Kitimat for export to Asian markets? Is it the risks to the environment from pipeline or tanker accidents? Or perhaps it is widespread distrust of the process and the unrelenting propaganda campaign?
For months, community engagement has focused on hearings by the Joint Review Panel. While the merits and risks were debated something more fundamental surfaced, and has not been addressed; a lack of trust in the integrity of the process.
Many people asked: are these hearings a way for the federal government to learn more about the opinions of concerned citizens, or simply a procedural process to legitimize approval? Does the panel, its members and mandate, faithfully represent all stakeholders, or was its composition skewed in favour of business and political interests? What public interest is driving the process?  How can those who participate in these hearings be sure that their submissions will actually influence the assessment process?
These questions point out fundamental flaws in current community engagement practices in Canada. Many British Columbians, feel that efforts to engage community members were too little and too late. Others see an imbalanced panel as evidence that the process is biased. The panel consists of two members that represent the National Energy Board, and one that is a professional Geologist, involved in extractive industries 1. There are, however, no members with credible expertise in environmental conservation or social justice. Under these circumstances, many people simply do not agree with arguments in favour.
Scientific concerns abound too. A key scientific study presented to the review panel raised serious questions about Enbridge's Environmental and Socio-economic Assessment (ESA), including the company's approach to climate change. Scientists from Raincoast Conservation expressed alarm that climate change has not been addressed in the Enbridge Northern Gateway ESA, despite compelling reasons to do so.
What can be learned from this assessment process? Effective community engagement requires full participation of advocates for and against development if companies wish to operate with social license. Concerned citizens want to be heard with respect.
Does offering jobs and other monetary compensation make up for the environmental damage or the relocation of residents to make way for Enbridge's pipeline, or the risk of a rupture, shipwreck and environmental disaster? Apparently that's not the case in the opinion of those affected and most British Columbians. Perhaps this is why the B.C. government has officially come out in opposition
Sometimes, when competing interests are a stake, differences can be addressed.
It seems in this case, the proponents and their government backers failed to understand that this conflict is over fundamental values of social justice and environmental stewardship versus short-term economic gain, not to overlook fairness to future generations who are also entitled to share the benefits from these public resources.
These are difficult decisions, let alone when public trust is lacking and the intentions of government and business and the veracity of Enbridge's safety claims raise concerns based on their track record.
If Canadians are to attain meaningful public participation, business and government must sincerely seek social license on resource management decisions, the rules of engagement need to be fair, and the public interest must be protected, indeed given priority. That said, attempts to purchase social license raise further questions about fairness.
As long as the proponents have the unfair advantage of resources, government support, and panel composition, it is difficult to see how social license can be obtained without subterfuge or connivance. When government or corporations propose resource development, they must engage affected communities as partners not as a means to realize their political and economic goals.
And what of the Chinese citizens who have their own concerns about environmental safety and public health? What about the large volume of water to be used for processing in a country already beset by shortages and contamination? More and more Canadians are becoming increasingly aware of the effects, both social and environmental, that this project would have in Canada. How much do we care to know about the potential effects in the receiving countries?
In the recently published e-book, CSR Guide for MNCs in China, the Harmony Foundation offers invaluable insight on how companies can strengthen community engagement so that tangible benefits are generated for both business and society. More information can be found at https://harmonyfdn.ca/?page_id=997
---
Enbridge Northern Gateway Project Joint Review Panel. http://gatewaypanel.review-examen.gc.ca/clf-nsi/bts/jntrvwpnl-eng.html[↩]