Grand houses, luxury cars, piles of electronic waste, and a blackened river are common sights in Guiyu, a small town in Southern China, becoming infamous as a dumping ground for international e-waste. Every year about 20 to 50 million tons of e-waste is produced in the world with 70% shipped to China, and the rest sent to India or poor African countries. The e-waste includes computers, printers, cell phones, TVs, toys, and other electronics.
And it's not only obsolete and broken equipment. Adam Minter, author of the Shanghai Scrap blog, found in April 2012 that the e-waste included defective but nearly new items from HP, Samsung, and Panasonic, as well as electronics returned for warranty repairs. In Guiyu, about 80% of families are directly involved in the business of disassembling and disposing of e-waste. Every year about 1.5 million tons of e-waste is processed in Guiyu, which contributes 90% of tax income for this small town.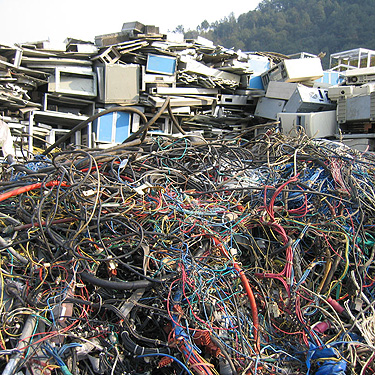 Among over 150,000 employees in Guiyu's e-waste industry, many are migrants from poorer parts of China, too desperate to care about the health risks. According to a 2008 documentary produced by 60 Minutes, "21st century toxins are being managed in a 17th century environment." Workers use their bare hands to disassemble electric wire, plastics and circuit boards; then the unprotected workers use fire and mercuric acid baths to extract precious, mostly toxic, metals from the e-waste.
What's the cost of our obsession with the newest electronic gadgets? The e-waste industry has seriously harmed the local environment and the health of residents. Acid residue is dumped into the local river which has turned black. Clouds of acrid smoke from burning the e-waste expose residents to polychlorinated and polybrominated dioxins, some of the most toxic compounds on earth. In fact, research has found that Guiyu has the highest level of cancer causing dioxins in the world.
Standing on the street for a short while you can smell the pungent stench in the air. Many workers have respiratory disease, skin ulcers and kidney stones. According to an article in the Chinese magazine Environment Research by Huo Xia, a professor in the Medical School of Shantou University, blood lead levels of 70.8% in children has reached the level of lead poisoning. The rate of stillborns for pregnant women in Guiyu from 2003-2007 was six times higher than other areas, and the rate of premature births was 62% higher.
Of course China bears some responsibility for this awful mess. In 2010 China, produced, 2.3 million tons of e-waste, second only to the U.S. production of 3 million tons. In addition, China ratified the Basel Convention in 1990 and has banned e-waste import ever since, but local governments turn a blind eye on the e-waste industry, grateful for tax income contribution to local towns.
But what about our responsibilities as consumers, is it fair for us to dump our waste on others? And yet that's exactly what we do, exploit the poor and leave them a legacy of damaged health and environments. Adding insult to injury we turn up our noses at their reckless behaviour and walk away.
The ugly truth is that the stinky e-waste export is driven by pure economics. A 2006 Seattle Times article E-waste dump of the world reported that, "an average computer yields only $1.50 to $2 worth of commodities such as shredded plastic, copper and aluminum (…) e-waste recyclers in the United States can't cover their costs with such low yields, especially while respecting environmental regulations." Even though charging 50 cents a pound for taking in old computers (about $20-28 per unit) would mean recycling can be done safely and profitably in the U.S., many companies still chose to ship the e-waste to Asia and Africa for better profit. Stricter environmental and safety rules drive up the cost of disposal, it's as much as 10 times cheaper to export the waste to developing countries.
Surely this harmful practice can be stopped. In fact, in the Basel Convention on the Control of Transboundary Movements of Hazardous Wastes and their Disposal was adopted to do just that. As the Basel Convention clearly states, "Recognizing the increasing desire for the prohibition of transboundary movements of hazardous wastes and their disposal in other States, especially developing countries. Parties shall prohibit or shall not permit the export of hazardous wastes and other wastes to the Parties which have prohibited the import of such wastes."
So what's the problem? Shamefully, as the biggest e-waste producing country, the U.S. continues to allow such criminal e-waste management through weak legislation and failure to ratify the Basel Convention. As usual Canada makes all the right gestures and does little in practice. Canada ratified the Basel Convention in 1992 but to date has done very little to enforce it. As the CBC documentary e-waste Dumping Ground (2008) pointed out, if e-waste export were an Olympic sport, the U.S. would win the gold medal while Canada would win the silver.
Even our Ministers of the Environment failed to get the job done. In 2004, The Canadian Council of Ministers of the Environment adopted 12 principles for e-product stewardship in the much ballyhooed Principles for Electronics Product Stewardship. Despite a clear commitment to only export e-waste for recycling from Canada to facilities with a documented commitment to environmentally sound management and fair labour practices, the CBC documentary clearly showed that some parts of Canada still ship e-waste to China and other countries.
So how do companies continue to export e-waste from Canada? Wikipedia reveals that the Canadian Government uses a unique interpretation of the Basel Convention to create a loophole in the regulations. As a result as much as 400,000 tons of e-waste is exported each year because it is intact not disassembled.
Our enforcement is not much more impressive. According to Seattle-based Basel Action Network, the only known enforcement success in Canada, occurred when 50 containers loaded with about 500,000 kg of e-waste destined for China and Hong Kong were caught at the Port of Vancouver in 2006. The 27 companies involved were fined less than $2,000 apiece under the Customs Act, but the company names were not revealed.
Well done Canada, we've opened the door to uncontrolled export of toxic e-waste and made some money in the process. If the Chinese or Ghanaians or others are stupid enough to take it, that's their problem not ours.
So Canada, what's our decision, out of sight, out of mind, or to take responsibility for ourselves?
If we are serious about human rights and environmental protection, we must first ban all e-waste export, and strengthen regulations for enforcement. The only exception should be highly specialized equipment going to a facility abiding by the highest international Environment, Health and Safety standards. At the same time, Canada should also urge, indeed require, producers to improve their product design for better disassembly and disposal, and press them to replace toxic flame-retardants with environmentally safe alternatives.
According to the U.S.Government Accountability Office, only $1 more in design cost per computer could save $4 for American recyclers in disassembly costs. Why let innocent people bear the cost for irresponsible consumers and profit-greedy producers? Sure companies and government must do better so must we as individuals. We need to control our eager pursuit of the latest fashion in cell phones, cameras, computers and other e-devices. Ten years ago, the average life span of a computer was six years; now it is only two years. Cell phones, cameras and TVs are no better.
If we each reduce our e-waste, make sure it is properly disposed of and choose suppliers who do the same we can help ensure our wastefulness is not destroying the environment or damaging the health of children and parents half way around the world.
If you want to explore more about e-waste, here are some links you can visit:
Important Facts You Need To Know About E-waste